THIS HERE  IS MEMPHIS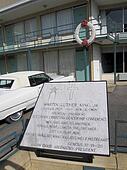 NATIONAL CIVIL RIGHTS MUSEUM
FORMERLY KNOWN AS THE LORRIANE HOTEL
So many folks always touring the MLK Musuem.  They have much history of Dr. Martin Luther King and inside thar's a gift shop, a movie theater, along with other good stuff.  Now many visitors can git to see the actual room which used to be closed off!    Sorry, but no photographer takers are allow I bleeve!  But you can take a snap outside in front of the room... I recKon?  When you come here you'll know by the pictureS
 PICTURES OF MEMPHIS
THE PYRAMID:  Now it's the Bass Pro Headquarters and Shopping Incorporated
When the new pyramid opens they'll have it all set up with Bass Pro's stuff.  People will git to browse, buy and admire they's splendor!   Thar's a big Bass that's sitting on the outside that's attracting attention already.  Soon,  everybody will be gitting reading for fishing equipment and stuff....
LOOK AT THIS PICTURE!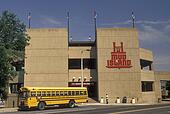 IT'S THE ENTRANCE TO GO OVER TO MUD ISLAND!
 If Y'all  want to git over to Mud Island you have to git on the mona-rail and ride across the river.   A lotta folks remember seeing dis here from the dat movie "The Firm" starring Tom Cruise several young years ago!  The building is located downtown Memphis and dis here picture is a little old, but basically it looks the same.  I bleeve. 
LISA MARIE WAS ELVIS'S AIRPLANE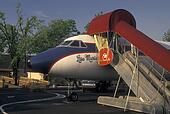 There was a time you could see dis plane while driving down Elvis Presley Blvd.  But I thank it's not thar anymore.   It's been moved to another location, but in dis picture you still got to see it  Lisa Marie is also Elvis real life daughter's name. 
Where did dat plane fly off to?
DU....UGH!  I done plum fore got!!!
BOY!  HAS THIS PICTURE CHANGED....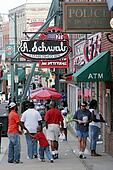 IT'S DAT FAMOUS BEALE STREET!
If y'all came today some of these store signs won't be around.  Beale street has closed down dat  "A.Schab" sto' and some these businessess have changed to someting new.  However, thousands still flock to see the Beale Street and visit lotsa night clubs and etertainment places.  I have been in a long time,  I just don't hardly go anymo....
ARE YOU  HAVIN  A GOOD TIME LOOKING AT THESE PICTURES?...
NOW WE'S LOOKING AT THE MISSISSISSIPPI
RIVERFRONT
The Mississippi River is always a wonderful view to take in.  No matter what time of day, or night it's breathtaking.  You'll see barges still floatin and sometimes thar's a Showboat that passes by.  Some folks also ride they own boats up and down the Mississippi!   You can't fish on this location, but thar are some places fishing is allowed.  
 I don't know...cause I only tells a lil.  
You're in A LITTLE SOUTHERN NEWS!
FOLKS VISIT HARBOR TOWN
iTS HOUSES that live right off the riverfront of the Mississippi.  People often just drive through to get a look.  Harbor Town is tucked away by the riverside,  People like to run and walk up a long bridge leading to the residents.   DU..UGH!
YOU'RE LOOKING AT DOWNTOWN OFF THE RIVER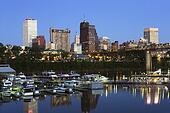 This photo gives a very great view of downtown's buildings.  I'm sure it has changed look some, but basically many of these buildings are still operational.them to bow down in his presence.
YOU CAN'T LEAVE YET!   YOU HAVE TO PUT ON YO' SHADES TO SEE
THE SUN STUDIO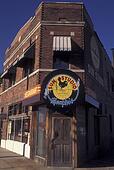 This a part of Memphis history.  Once and still a recording studio for many great recording artist.  Yes, even Elvis!  This picture looks differently now, but the location is still in the heart of South East Memphis.
WE'll leave with The Peabody Ducks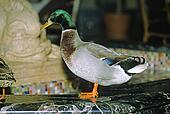 Everday, these mallards take a walk from the roof of The Peabody Hotel down to the lobby for a swim.   Folks can't wait to see them come down on the elevator and go straight to the lobby's foundation.   The quack and toddle on their destination with thousands of fans who come to see them every year.
 Quack!
I guess Yo' Southern Belle is finished wit these pictures.    Now you can go enjoy the MEMPHIS IN MAY FESTIVAL FOR 2015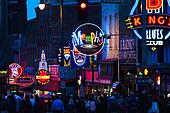 IT'S ALREADY STARTED!
Visit they web site for mo'
information...
You can Google it...
HERE'S Y'ALL TIP!
A picture is worth a thousand words, if not more.. I reckon?
One day we gon' have a long talk bout pictures.
"It'll be in The Big Sky."
__________________________________
   WINNIESPOETRY BOOKS 
IT IS YOU THAT I LOVE
100
One hundred
love poems
from:
MIISRAEL
"Order me all WINNIESPOETRY"
ALL YOURS TO OWN AND SHARE WITH WINNIESPOETRY
 "Not just any poetry It's WINNIESPOETRY"
WINNIESPOETRYCOPYRIGHED2014
 This publication began September 2008
MAY2015
ISSUE #90
A LITTLE SOUTHERN NEWS
EVENTS! PERFORMANCES! PEOPLE, AND MILD HUMOR ABOUT MEMPHIS AND THE SOUTH  OR OTHER PLACES
 Events  News Page
Written by:  Ms. Winnie Shields also known as MIISRAEL
Never mind me I'm looking fur some WINNIESPOETRY
A LITTLE SOUTHERN NEWS 
If you saw some typos in this issue
You should know by now..
Its meant to be like that!

Remember to scroll down on each page selected
 
A Little Southern News
Copyrighted by
WINNIESPOETRY
2015
All rights reserved
CLICK ARROW TO GO BACK TO THE TOP